Our Staff
As a physician-owned private practice, our mission is to offer the Pawley's Island community with expert, specialty care across Pain Medicine, Neurology and Psychology. Our staff, led by Medical Director Dr. Edward Tavel, MD, are leaders in their respective fields and bring over 40 years combined healthcare experience to patients across South Carolina
Medical Providers:
Edward M. Tavel, MD
Founder and Medical Director Born and raised in Charleston, SC, Dr. Edward Tavel has practiced pain management since 1993. Passionate about providing his patients with the latest advances in pain treatment techniques, he leads his experienced medical staff in providing compassionate and customized care. Dr. Tavel uses a full range of interventional, non-surgical techniques and provides a comprehensive approach to treating pain. His special areas of interest include arthritis of the spine and chronic nerve related pain. He is specifically skilled in radiofrequency ablation for arthritic-related pain of the spine, and is one of the few physicians in the Charleston area performing neuromodulation therapy using spinal cord stimulation.
Dr. Tavel earned his undergraduate degree from Davidson College and his MD at the Medical University of South Carolina. He completed four additional years of anesthesia and pain medicine training at the University of North Carolina at Chapel Hill, and was chief resident in his final year. He is board certified by the American Board of Anesthesia and the American Board of Pain Medicine. He maintains active membership in the Interventional Spinal Intervention Society (ISIS), as well as, the American Society of Interventional Pain Physicians (ASIPP). Dr. Tavel has been named as one of ASC's "Industry Leaders to Know" as well as one of the top "150 Pain Management Physicians" nationwide.
Matthew Drakeley, MD
Pain Medicine and Physical Medicine & Rehabilitation
Matthew Drakeley, MD received his Medical Degree from Temple University in Philadelphia, Pennsylvania.  He subsequently completed a Physical Medicine and Rehabilitation (PM&R) residency at the University of Pittsburgh and was named Administrative Chief Resident for 2017-2018. Dr. Drakeley recently completed a one-year fellowship in Pain Management at the University of Pittsburgh.   Dr. Drakeley also acts as an Investigator for Clinical Trials of Carolina, an affiliate of Pain Specialists of Charleston.
David Stickler, MD
Neurologist
A Pennsylvania native, Dr. Stickler is the Department Chair of Neurology Specialists. Dr. Stickler received his medical degree from West Virginia University and completed both his Internal Medicine and Neurology residencies at the University of Florida.  Upon leaving Gainesville, Dr. Stickler completed a Clinical Neurophysiology Fellowship and Advanced Fellowship in Neuromuscular Diseases at the Duke University Medical Center in Durham, North Carolina.
Patricia Myers, MD
Neurologist
An Alabama native, Patricia Myers MD is a general neurologist with sub-specialty interest in epilepsy.  Dr. Myers received her medical degree from The University of South Alabama and completed both her Internal Medicine and Neurology Residencies at the Medical University of South Carolina.   During her fellowship year at MUSC, Dr. Myers completed a Neurophysiology Fellowship.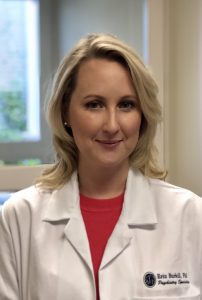 Erin Burkill, Ph.D
Clinical Neuropsychologist
Dr. Erin Burkill, Ph.D. is a Clinical Neuropsychologist and Psychologist with Psychiatry Specialists of South Carolina.  Dr. Burkill earned her Ph.D. in Psychology from West Virginia University and then went on to complete a two-year Postdoctoral Fellowship in Clinical Neuropsychology at Allegheny General Hospital in Pittsburgh, PA.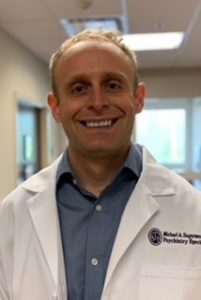 Michael Sugarman Ph.D, ABPP
Clinical Neuropsychologist
Dr. Michael A. Sugarman Ph.D is a Clinical Neuropsychologist with Psychiatry Specialists of South Carolina. Dr. Sugarman completed his Ph.D. in Clinical Psychology from Wayne State University with specialty training in Neuropsychology and completed his postdoctoral fellowship in Neuropsychology at the Bedford VA Hospital in Massachusetts in conjunction with the Boston University Alzheimer's Disease Center. He is board-certified in Clinical Neuropsychology by the American Board of Professional Psychology.